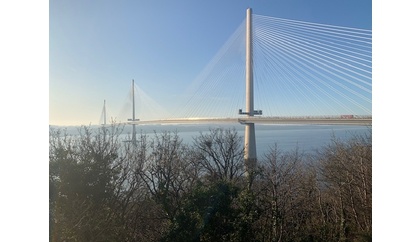 The Queensferry Crossing has re-opened to traffic for the first time since it shut in both directions on Monday night.
It initially closed southbound in the early evening, before the northbound motorway was subsequently shut, because of falling snow and ice.
As a result, drivers travelling between Fife and Edinburgh have had to take a diversion route of more than 30 miles via the Kincardine Bridge.
Extra buses and trains have been put on for affected commuters during the Queensferry Crossing's closure.
Despite the crossing's closure, The Forth Road Bridge has only remained open to buses and taxis with general traffic not being permitted to use it.
Police caught five vehicles this morning crossing the previously used bridge when they weren't allowed to.
Meanwhile, Operating Company of the Queensferry Crossing Amey says it has worked with weather forecasters and other operational partners to enhance its understanding of the 'specific processes' which led to snow and ice building up and then falling from the cables.
Eight vehicles were struck by the falling ice and snow on Monday.
Mark Arndt is Amey's Account Director and said: "We thank drivers for their patience and understanding during this closure.
"Safety had to come first, however the data we have gathered has improved our understanding of the issue and will help us to improve predictions and refine operating procedures in future."