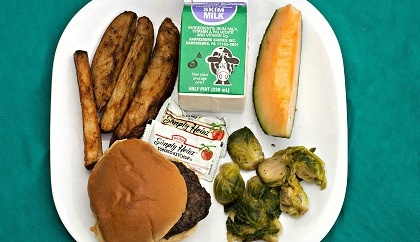 Concerns have been raised about how not taking up free school meals affects funding from the Scottish Government.
School pupils not taking up the free school meals they're entitled to are losing out on money from the Scottish government according to a Fife Councillor.
North East representative Jane Ann Liston says has raised concerns about youngsters not signing up d#fro free lunches.
Currently only 39.5% of school children eligible for free meals take them, the Liberal Democrat Councillor says that's having an impact on the amount of money given out bu the Pupil Equity Fund.
The amount of money given to each school is calculated by how many students sign up fro free school meals.
Councillor Liston said: "Not only are nearly two thirds of entitled secondary pupils missing out on a nutritious meal but the PEF money for them all is little more than a third of what it should be.
"This means less well-off children are being doubly disadvantaged by a system supposed to help them.
"We know that the percentage for North East Fife will be even lower, because the uptake at 2 of the secondary schools is very low indeed, with 1 of them having no requests for meals from its senior pupils, even although the catchment contains areas of deprivation.
"We also can see from the figures that obesity among pupils is rising.
"Children of poorer families are missing out on both good food and extra money aimed at closing the achievement gap, because the Scottish Government uses an unreliable indicator to allocate resources.
"Fife Council should be making its concerns known to the Scottish Government as a matter of urgency, demanding that a better way be found to calculate the PEF allocation, otherwise those least able to afford it will continue to lose out."
Kingdom FM news have approached the Scottish Government for a comment.