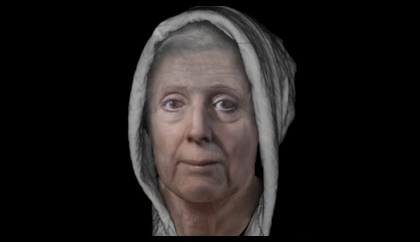 A computer-generated image of Lilias Adie, courtesy of Dundee University.
The public is being asked for its views on a proposed national memorial in Fife to remember people condemned as witches in the 16th to 18th centuries.
Proposals for the memorial will go on display at Torryburn and Newmills Community Centre next Thursday at 7pm.
They include an information point for the history behind the persecutions.
There were at least 1,400 recorded executions of people said to be guilty of witchcraft in Scotland.
Councillors Kate Stewart, Mino Manekshaw and Bobby Clelland support the plans. They said in a statement: "We'd love to see the creation of a memorial at Torryburn, dedicated to the memory of Lillias Adie and more generally to the many thousands of (mainly women) persecuted as 'witches' in early modern Scotland.
"It would help to re-positioning them away from the misguided modern 'Halloween-style' perception of fun they have become. They were the innocent victims of an unimaginable injustice.
"The council has a potentially ready-made piece of monumental architecture in the form of the 1840s Beamer navigation beacon which has it's own ties to Torryburn. It was designed by Stevenson, whose nanny for 20 years, Alison Cunningham, was born in Torryburn.
"We're keen to gauge public opinion on its possible re-positioning and use for such an iconic role."
Douglas Speirs, Fife Council's archaeologist, said: "Fife, and specifically Torryburn, the site of Lilias' unique revenant grave, is a particularly good place for such a memorial. Given the sad fact that in Fife possibly more witches than any other county in Scotland were accused and executed."