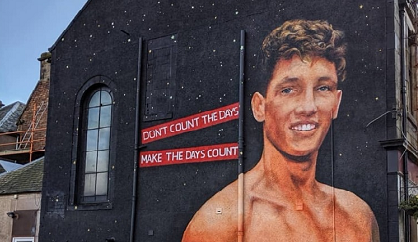 The mum of a boxing champion from Kelty who passed away this year hopes a mural in his memory will inspire youngsters to chase their dreams.
Connor Law died suddenly in June, just days after revealing on Twitter he had been going through a "though time".
A 30ft painting in his memory has been unveiled on the side of the Number One Goth pub in the town.
His mum, Kaye, told Kingdom FM News how grateful she is for the tribute:
"I'll see him every single day when I walk down the street," she said.
"I feel every emotion under the sun when I look at him. It's like I just want to touch him again."
Kaye and her husband, Gary, gave their blessing pub owner Asif Hussain and artists from the Kelty Street Art Collective to paint the mural in Connor's memory.
Kaye said both she and Gary hope the painting will encourage youngsters to never give up on their dreams.
"We want it to inspire young kids not to just laze about or play video games all the time.
"Go out, follow your dreams and push yourselves to what you want to achieve in life."
The mural features the Mohammad Ali quote "Don't count the days, make the days count", which was tattooed on Connor's leg.
The three time champion was unbeaten in 13 fights since turning professional in 2014.