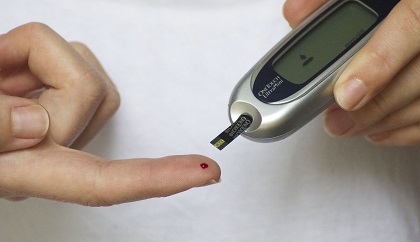 Flash Glucose Monitoring would not require people to draw blood
Experts are calling for a new way of measuring blood glucose to be made available in all parts of Scotland.
The NHS approved Flash Glucose Monitoring System allows users to measure their sugar levels without drawing blood, but it is only available in four Scottish health board areas.
Fife is not one of them, despite having more than 20,000 people here registered as diabetic.
Aileen Hillis from the Scotland Freestyle Libre Campaign said:
"Once again we see a postcode lottery in the care and treatment of diabetes, this is unacceptable.
"People with Diabetes across Scotland need access to these sensors now, giving them an equal opportunity to manage their diabetes like those with access to them.
"This will save the NHS money by reducing hospital admissions and the likelihood of long term complications.
"Diabetes complications cost the NHS in Scotland around £130m a year.
"The better diabetes is managed the more we reduce the risk of severe complications such as heart disease, blindness or amputations.
"But not just that, diabetes is a massively complicated 24/7 condition, technology gives us back a certain quality of life others enjoy.
"Technology in the care and treatment of Type 1 Diabetes is moving at the quickest pace we've ever seen and has the potential to save the NHS millions - and yet this prescriptions scandal means that we're being denied access.
"It's scandalous. It was added to the drug tariff in November, yet only four health boards areas will currently prescribe it.
"We should all have the same opportunity to live as long and as healthy a life as possible."