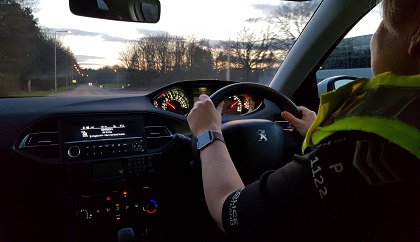 The Scottish Government is being warned police are relying on expensive, short term solutions to cope with financial pressures.
It has been revealed this morning Police Scotland hired 10,833 vehicles last year - an increase of more than 64% since 2016.
The Scottish Liberal Democrats say it is a symptom of an underfunded centralised force, and it is vital officers have the resources they need.
Commenting on the information, the party's justice spokesperson Liam McArthur said:
"Auditors and staff at every level of the national force have raised concerns about the serious pressures on Police Scotland's budget.
"The SNP promised that their centralisation of the police would deliver savings.
"Instead, the national force has consistently recorded deficits in the tens of millions of pounds and this is projected to continue for years to come.
"Clearly there are times when Police Scotland will have specific operational demands that necessitate additional vehicles but it is the SNP Government's responsibility to ensure that they can afford the kit they need.
"There has been a 64% increase in the number of vehicles the police hire and this warrants an explanation.
"The public would not want to see a police force dependent on short term solutions in place of long term thinking."