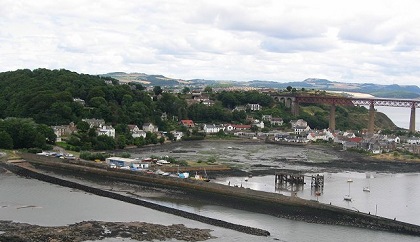 There could be a brand-new hub for artists and craftspeople in Fife, if plans for five giant shipping containers in North Queensferry are approved. 
Proposals for the 20ft structures around the conservation site around the old railway pier were submitted to council planners by the North Queensferry Community Trust.
The site is already home to the North Queensferry Boat Club and North Queensferry Rowing Club.
The Trust has suggested two of the containers would be used as a so-called "People's Shed", which would provide workshop spaces for those learning skills, like wood and metal work.
Meanwhile, another would be used as a creative space for artists, leaving the remaining two available for storage space.
Jane Hesketh, who submitted the plans on behalf of the group said: "We plan to install five 20ft shipping containers in the northernmost part of the site in an old railway culvert which is surrounded by steep banks and trees to the north, west and east.
"The People's Shed will involve a few more people, but will be largely concerned with learning and practising woodwork, metalwork and other workshop skills inside the joined containers.
"The acoustics of the location are such that the containers will be surrounded by the steep sides and vegetation of the culvert, which should deaden and contain sounds directing them out towards the water."
She added: "Arts and crafts studios aren't noisy, nor is occasional long term storage."
The plans are expected to come up for approval later this year.