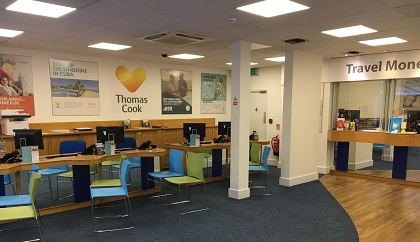 Hays Travel has announced it is planning to re-open the Thomas Cook store in Kirkcaldy, in the same week the Glenrothes branch re-launched with all its former workers.
The Sunderland-based independent travel company acquired all of the collapsed firm's shops across the UK last week.
In a statement, a spokesperson for Hays Travel said the company has invited all of the Kirkcaldy stores former staff to work at the premises again.
"It will be re-opened as a Hays Travel store. It is not open yet but we are hoping to have the shop up and running within the next week," they said.
"All the former Thomas Cook staff who worked there have been invited back."
However, in a handwritten letter written to customers posted on the door of the shop on the High Street, workers revealed they had all found employment elsewhere.
"If that is the case then we will be going ahead with our normal recruitment process," the spokesperson added.
"All the staff in that store will have been invited to come back and an offer contract has been made but it depends on whether or not that has been accepted."
It comes in the same week the store at the Kingdom Shopping Centre in Glenrothes re-launched.
The spokesperson said: "The store is already open. It has probably been opened recently, in the last couple of days and it will have all of its original staff back working in the store."