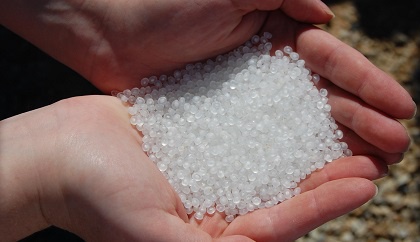 Nurdles are a small plastic product increasingly being found on Scotland's beaches
Environmental campaigners are building a picture of the state of Scotland's beaches - by taking pictures of coastlines from the air.
They are creating an online gallery of areas needing attention in a bid to have public spaces cleaned up, with the help of funding from businesses and the government.
Charities are hoping to create a Scotland-wide picture of plastic pollution, with many stretches of beach still not explored.
SCRAPbook, which stands for Scottish Coastal Rubbish Aerial Photography, will see aerial photographs taken and fed into an online scrapbook for volunteers, communities, schools and individuals to direct beach clean up and survey activity.
Archie Liggat, Sky Watch Chairman, says the charity's pilots get a bird's eye view of the country's coastline:
"Our pilots get a unique view of the country's coastline.
"We fly sorties for many different reasons and are always dismayed by plastic contamination we see floating in our waters or landing on our beaches.
"SCRAPbook is an exciting project as we hope it will raise awareness of how much litter is around our coasts and enable more to be done about removing it and preventing it from getting there in the first place."
Catherine Gemmell, the Marine Conservation Society's Scotland Conservation Officer said:
"With nearly 10,000 kilometers making up Scotland's mainland coast we know there are many stretches of beach that our volunteers have not been able to survey yet.
"SCRAPbook will enable our amazing volunteers to see where there are beaches that have yet to be cleaned and surveyed which will lead to a more robust evidence base of what and how much is being washed up on Scotland's shores.
"From the 5p carrier bag charge to the commitment for a Deposit Return System Scotland has seen how much power data on beach litter can have - this project will provide an entirely new data set that will be crucial to highlight to Government and Industry what steps we need to take next to stop this plastic tide hitting Scotland's shores."