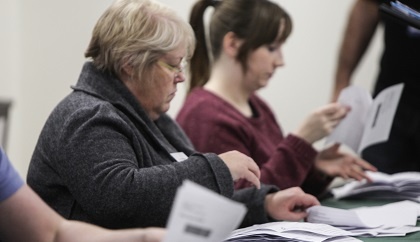 There are concerns Scottish politics is not representative enough, because of the barriers preventing disabled voters being fully active in debates.
There are calls for remote voting where access is an issue, as well as an option for job sharing if a disabled candidate wants to stand for election.
Inclusion Scotland is asking all of Holyrood's current MSPs to commit to a charter making politics more accessible.
Phyl Meyer, Employability and Civic Participation Manager at Inclusion Scotland, said:
"Disabled people are often hugely discouraged from putting themselves forward for elected office due to perceptions that they will be unable to meet the expectations of the role.
"These fears are often based on barriers to participation, rather than a person's suitability for the position.
"The charter will aim to eliminate these obstacles.
"The charter will commit political parties to providing clear guidance on how they will support disabled people's participation.
"This could include alternative means of participation such as remote voting, and exploring ways to ensure the election of a representative number of disabled candidates.
"A clear message we have heard from disabled people is that introducing an option for job-sharing would make elected office accessible to many more disabled people.
"We should also consider having more councillors per ward and shorter terms of office.
"These measures could also benefit participation among other groups that have barriers to elected office such as carers and lone parents – who are mostly women."
Party leaders and MSPs will be invited to sign the Charter at the Scottish Parliament in June.