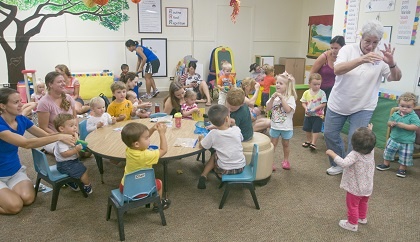 Parents in Fife will be able to choose how their child receives 1,140 hours of early-years childcare when it comes into force next year.
Councillors in the Kingdom will be told at a meeting tomorrow of four models for delivering the increased hours for all pre-school children.
They're designed to give parents as much flexibilty as possible when choosing how their child's care is met from next August.
One of the options is sessions of six hours' care per day during term time.
The second offers sessions of four hours and 40 minutes per day, either during the morning or afternoon, for 49 weeks of the year.
Meanwhile there is also a 46-week provision option - which involves children having sessions of 10 hours per day on a Monday and Tuesday, or a Thursday and Friday, with a half-day on a Wednesday.
There will also be other options open at private nurseries, playgroups and childminders, where hours can be agreed with parents.
Families will be able to choose to "blend" the options above, to meet their needs.
Trials of the increased hours of delivery took place from August last year at 13 council nurseries, and a report going to the education and children's services committee says feedback was "overwhelmingly positive".
The doubling of nursery hours for three and four-year-olds from August 2020 is a requirement of the Scottish Government.