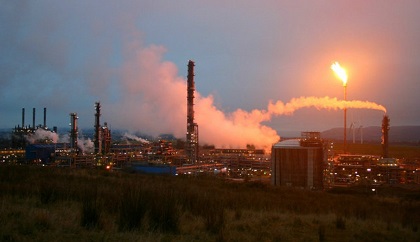 More than 100 members of staff at the petrochemical plant are protesting over health and safety, redundancy selections and pay.
The unofficial strike comes as the Scottish Environment Protection Agency (SEPA) earlier announced the ExxonMobil plant received a "Poor" rating for its operations in 2018.
An ExxonMobil spokesperson said: "As a company we always work to verified data. We have, therefore, requested that SEPA provide the evedential data on which it has made its assessment, and currently await its provision.
"SEPA has confirmed that the 2018 CAS Assessment for our company is currently under review while this process is ongoing."
The Mossmorran Action Group chairperson James Glen said: "How can communities have confidence that Mossmorran is safe when 100 workers have staged a walk-out in part over health and safety concerns at the ethylene plant?"
The site, near Cowdenbeath, has also come under pressure again for recent flaring incidents.
Kingdom FM News has contacted ExxonMobil for comment on the workers' walk-out.