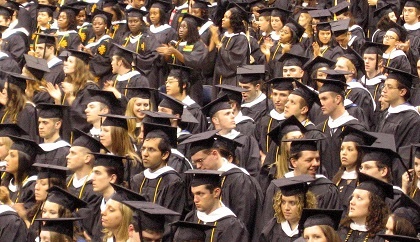 Robert Gordon University is the latest to get rid of the charge - with two other universities having done so already. 
A freedom of information request by the NUS shows some students are paying up to £225 to attend the ceremonies.
Paloma Paige is the President of St Andrews Student Association. She said it isn't a big issue:
"From my perspective as President, the graduation fee that we have at matriculation is not one of the huge access barriers.
"There are bigger issues that I am concerned about to be honest."
St Andrews charges its students a fee when they join rather than at the end of their course.
NUS Scotland President Liam McCabe said:
"Following our findings that Scotland's students could be out of pocket by up to £225 for attending their graduation ceremony, NUS Scotland are campaigning to ensure every student is 'free to graduate'.
"Today, we have published an open letter to all of Scotland's college and university principles, encouraging them to engage with our campaign, step up to the plate and scrap these charges.
"We have already seen excellent, progressive work from some institutions across the country to abolish these charges and we want to see the rest doing the same.
"Working in partnership with NUS Scotland, student associations and the institutions, we can ensure that graduation is the big pay-off for students, not the great pay out."