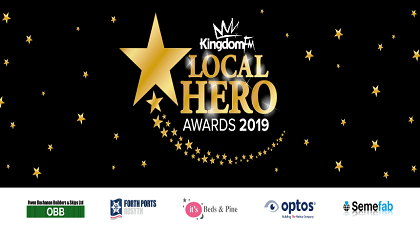 Fifers can nominate unsung heroes from today on the Kingdom FM website
The awards celebrate the achievements of some of Fife's most remarkable people.
More than 400 people have been shortlisted since the first ceremony in 2007.
This year's event takes place on the 23rd of August at the Rothes Halls in Glenrothes.
Kingdom FM's Managing Director, Blair Crofts said:
"It's an immense privilege to be involved in Kingdom FM's twelfth Local Hero Awards and a real honour to be able to share in the stories of so many awe-inspiring people who put the interests of others ahead of their own."
Kingdom FM's Station Manager, Darren Stenhouse said:
"This gala event is undoubtedly the highlight of my year and I'm always amazed and humbled by the nominations we receive.
"If you know a Fifer who deserves to be recognised I'd urge you to nominate them.
"It's easy to do online at kingdomfm.co.uk and they may just end up joining us at Kingdom FM's Local Hero Awards at Rothes Halls, Glenrothes on Friday 23rd August 2019."