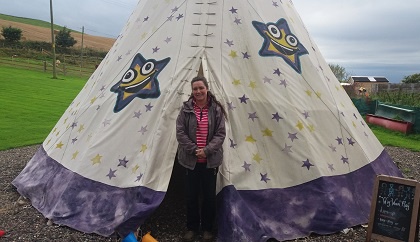 Karen Morrison from STAR was a finalist for 'Inspirational Woman of the Year'
A Fife charity fighting for the rights of kids separated by the care system is being visited this afternoon by the a Scottish cabinet minister.
Siblings Reunited, known as STAR, is based near Cupar where they offer a safe space for brothers and sisters being looked after by different families to meet and play.
Aileen Campbell, the cabinet secretary for communities and local government, is visiting the organisation, which is in a vast space on a farm.
It is believed that the First Minister, Nicola Sturgeon, has been made aware of the charity through their work with the Stand Up For Siblings campaign, which is calling for more to be done to protect the rights of brothers and sisters who are separated by the care system.
During 2018, STAR won the 'Improving Children's Lives' category at the Herald Society Awards, and charity boss Karen Morrison was a finalist in the 'Inspirational Woman of the Year' contest run by ITV's Lorraine show.
Eileen Black is a trustee of the charity, she is explaining what she wants the minister to take away from her visit: