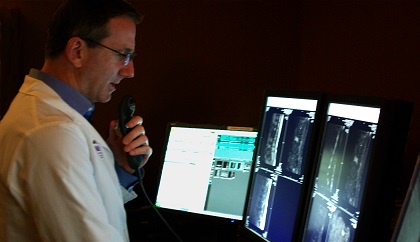 There is a shortage of radiologists in Fife
Health bosses in Fife are welcoming plans to recruit more radiologists from outwith the UK.
Fife is one of nine Scottish health boards struggling to take on the specialist consultants who diagnise serious illnesses using imaging such as x-rays.
There are 9 radiologist vacancies in the Kingdom at the moment, and last year NHS Fife tried and failed to recruit two.
Director of Workforce, Barbara Anne-Nelson, said: "In common with Health Boards across Scotland, NHS Fife has been affected by a UK-wide shortage of Consultant Radiologists.
"We welcome today's announcement of an international Radiology recruitment drive.
"NHS Fife is one of nine Health Boards participating in this campaign, which offers a unique opportunity to coordinate recruitment activity, highlighting the benefits of living in Scotland and working for the NHS.
"We work proactively with colleagues across southeast Scotland to minimise any impact of vacancies on patients.
"Our close working relationship has allowed us to establish an innovative approach to Radiology, with images taken in Fife reported on by Radiologists across southeast Scotland, ensuring patients continue to be seen as locally as possible."