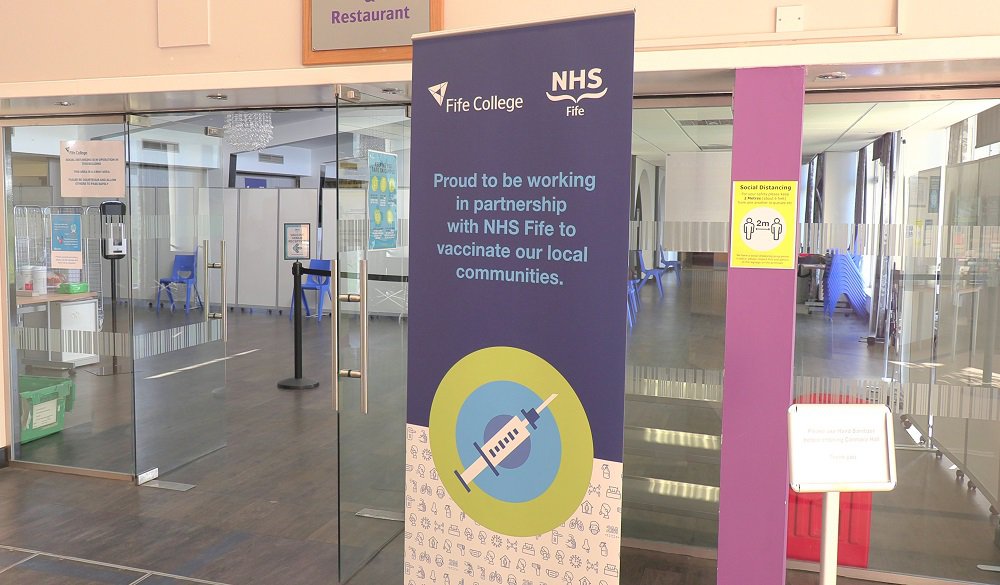 Picture: NHS Fife
NHS Fife has confirmed Fife College's Carnegie Conference Centre in Dunfermline will be home to a mass coronavirus vaccination clinic.
The college's representatives contacted the health board earlier this year to offer use of their facilities for free for the clinic.
Canmore Hall Suite at the college was identified as a possible location and a thorough assessment was carried to make sure the venue was suitable for the delivery of hundreds of daily vaccinations.
The clinic there will start next month.
There will be plenty of space for physical distancing and the venue has good public transport links and dedicated parking facilities.
Dr Hugh Hall, Principal of Fife College, said: "At Fife College, we were keen to support the vaccination effort in any way we could so we are delighted that part of our Carnegie Conference Centre has been chosen as a mass vaccination centre in the Kingdom.
"We are looking forward to welcoming Fife residents on to our campus over the coming weeks and months.
"The College is proud of the part we play in the local communities we serve throughout Fife and we are pleased to be able to support NHS Fife in the fantastic work they are doing."
NHS Fife also said four mass Covid-19 vaccination sites are currently planned in towns across the Kingdom to meet demand for higher numbers of jags.
It recently announced that the former M&S store on the High Street in Kirkcaldy is also a site for a mass vaccination clinic.
The health board will confirm the remaining two places after announcing the Dunfermline venue as the region's second mass vaccination site.
Vaccinations at the new clinics are being operated by appointment only.
Meanwhile, since February, there has been a network of community coronavirus clinics in operation.
More than 220,000 jags have now been administered in Fife, with the vaccination programme in the Kingdom starting to move into a new phase aiming to have all of the Kingdom's adults offered a vaccine on an incremental basis in the coming months.
Janette Owens, NHS Fife's Director of Nursing, said: "NHS Fife has particularly strong links with Fife College going back a number of years, and we are very grateful that they have generously allowed us the use of Canmore Hall at Carnegie Conference as a mass vaccination clinic.
"The Covid-19 vaccination programme in Fife is far and away the largest public health intervention the Kingdom has ever seen, with more than 220,000 jabs administered in a few short months.
"With the first doses for those in our prioritised groups nearing completion, it's vital that we look towards the vaccination of our wider adult population and this requires us to tailor our approach if we are to deliver the number of vaccines we are required to in timely manner.
"Venues such as the Carnegie Conference Centre will not only enable us to perform more vaccinations than other clinics nearby, they also provide greater flexibility with sufficient space to enable us to scale up and down the programme dependent on vaccine supply."