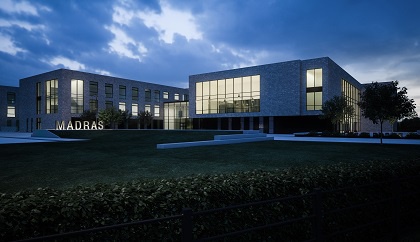 A computer visualisation of the new Madras College building
Parents in St Andrews are describing a planning application for a new Madras College building as a 'significant' step forwards.
The plans have been submitted online for public viewing, almost a decade after the campaign for a new Madras campus was launched.
Fife Council say they recognise that there have been disappointments along the way, but are promising that efforts to replace the original, ageing building have not been given up on.
Luke Rendell is from the campaign group Parent Voice:
Fife Council Co-Leader, Cllr. David Ross, said: "We have worked relentlessly to have a new school building for Madras College, to replace the buildings in South Street and Kilrymont, and to finally bring the school community together on one site.
"We have not at any time given up on making sure that this project succeeded.
"It has been a long process with disappointments along the way, but I am delighted that this application has now been lodged and this marks a significant further step towards the construction of this much needed new school.
"Hopefully we have found a solution now which can bring the community together and we can give the children of St Andrews and the Tay Bridgehead area the new facility which they deserve.
"The application will be considered in due course but in the meantime I would encourage stakeholders and members of the public to go online and express their views of the plans. "
Cllr David Aleaxander, Fife Council's co-leader, said: " Through the +£250m Building Fife's Future Programme we have already built five new high schools and two primaries.
"A new Madras would complete the programme for the time being while we seek additional funding for future school buildings.
"The new Waid was officially opened only last week and to see the benefits it is bringing to the children and staff who are learning and teaching there was great.
"I want to see the young people of Madras College benefit in the same way from all the advantages that a modern, purpose built facility can bring to a school community.
"I want to thank all those within Fife Council and St Andrews University who have worked so hard to bring these plans forward for consideration."