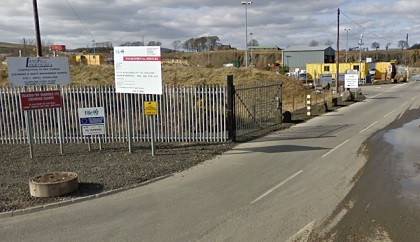 Charges would be imposed at sites such as Lochhead recycling centre in Dunfermline
Businesses in Fife could face higher charges for dumping waste at community tips from next year.
The council's environmental committee is considering plans to help it recover £1.5m that it is currently spending dealing with commercial waste at its recycling centres.
At the moment, firms need to buy a 'recycling ticket' at a cost of either £150 or £450 if they want to dispose of their rubbish at a council facility.
But the number of tickets being bought dropped by 14% in April 2018, when tougher rules were brought in to make sure businesses were not dumping waste not covered by council regulations.
That has also resulted in a 12% decrease in the amount of waste-per-tonne being disposed of at recycling centres.
Council bosses say they have identified people parking commercial vans near to recycling centres and dumping waste on foot, or using cars with trailers, to avoid height restrictions intended to control the diosposal of business waste.
To combat this, councillors are considering a 'cashless payment system' at nine recycling centres based on vehicle size, the type of materials being disposed of, and how much is being dumped.
There would be a discount for anyone delivering waste directly to Lochhead in Dunfermline and Lower Melville Wood in Ladybank
Cllr Ross Vettraino, Convener of the Environment, Protective Services and Community Safety Committee, said:
"Accepting commercial waste service at the Council's household waste recycling centres is currently costing the council tax payers in Fife in excess of £1.5 million per annum.
"Because of the costs of doing so, neighbouring local authorities, including Edinburgh and Dundee, no longer accept commercial waste, but I want Fife Council to continue to assist local businesses.
"If the service is to be continued, however, full costs must be recovered.
"By failing to recover full costs, the Council is effectively subsidising some businesses and is distorting competition by enabling those businesses to lower their customer charges, compared with businesses that pay full commercial waste disposal costs.
"The charges that are being recommended to the Committee are actual costs, and do not include any element of profit.
"It should also be noted that there are over a dozen private waste disposal companies operating in Fife, so those who produce commercial waste can 'shop around'."