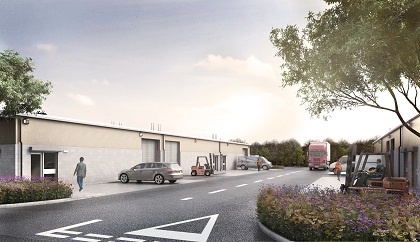 An artist's impression of the new business units
The first new business development in Glenrothes in a number of years is almost complete, according to Fife Council.
Seven units are being built at the Queensway Business Park, which officials are hoping will attract more firms to Fife.
Councillors are hoping its location next to a huge data centre and biomass plant will be attractive to the tech industry.
Cllr Altany Craik, Convener of the Economy, Tourism, Strategic Planning & Transportation Committee at Fife Council, said: "This offers a great opportunity for smaller, local businesses to locate in modern purpose-built premises.
"Units like these are so important to the local economy, and local jobs.
"There is a lot happening at Queensway, and Fife Council's regeneration efforts here have been speeded-up by Fife Task Force support.
"This project has been completed on-time and on-budget.
"Further work to clear empty run-down properties in the area to make way for new development is also underway.
"Queensway is one of Central Fife's best-located employment locations and I'm sure that these new properties will prove popular with businesses."