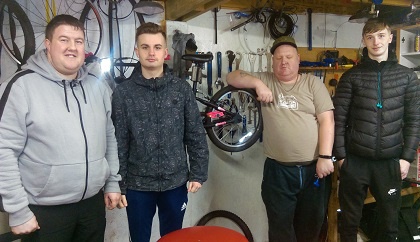 The Gallatown Bike Hub will soon have mirrored pump tracks
Plans for a new bike park in Kirkcaldy have been approved.
In a first for Scotland, the park will have a mirrored track allowing real time competition.
The YMCA asked Kirkcaldy councillors to approve £20,954 to the group as match funding for the costs of the development of a bicycle and pump track.
Gallatown Park Bicycle Pump Track will convert a disused former bowling rink in the park to a multi-use bicycle park, which will also include a beginners track, entry level pump track with simple rollers and berms and an expert grade track.
The free to use track will create a high quality leisure and sports facility in the heart of Kirkcaldy and promote tourism into the area.
Shuggy Hughes, Gallatown Bike Hub Director, said that the track being free was a strong wish of the hub members.
Mr Hughes said: "From inception, we've seen it as free to use. From both our young members and adults, they were specific. We're looking at volunteers and donations to sustain it. We are also looking at competitions to bring in money."
Mr Hughes said he expected a couple hundred people to use it each week, bringing in bike enthusiasts from out with Fife.
Convener of the Kirkcaldy area committee, Councillor Neil Crooks, said the project had been a long time in the making and hoped that it would be supported.
The organisation had already secured £47,600 from Fife Environment Trust (FET) and is contributing £1200 for the £69,000 project.
The funding was approved unanimously.
Reporting by Emma O'Neill