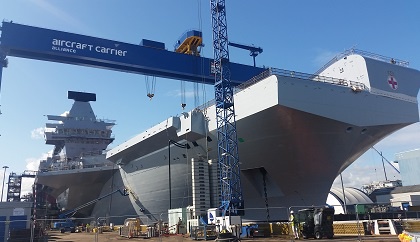 The HMS Prince of Wales was built at the Rosyth Dockyard
Hundreds of jobs at Rosyth Dockyard have been secured, after Babcock was named as the preferred bidder for the Royal Navy's latest fleet of warships.
Five ships will be assembled at the Fife dockyard as part of the £1.3 billion contract.
It is thought more than 2500 jobs across the UK are expected to be supported as a result of the Type 31 programme, including 150 jobs for new technical apprenticeships.
Work is set to begin at the end of 2019, with the first ships expected to be ready by 2023.
Unions are welcoming the decision, with regional industrial officer for Unite- Bob MacGregor- commenting:
"Unite is delighted that Rosyth will perform a leading role in the construction of the new Type31e frigates for the Royal Navy.
"This will secure hundreds of jobs for well over a decade. The contract award is recognition of the highly-skilled workforce based at Rosyth and their dedication to making the yard a success.
"There will be substantial benefits to the wider Fife economy through the supply-chain and also for the next generation of young people looking at the opportunities for apprenticeships."
Archie Bethel, Babcock chief executive, said: "Driven by innovation and backed by experience and heritage, Arrowhead 140 is a modern warship that will meet the maritime threats of today and tomorrow, with British ingenuity and engineering at its core.
"It provides a flexible, adaptable platform that delivers value for money and supports the UK's National Shipbuilding Strategy.
"Arrowhead 140 will offer the Royal Navy a new class of ship with a proven ability to deliver a range of peacekeeping, humanitarian and war-fighting capabilities whilst offering communities and supply chains throughout the UK a wide range of economic and employment opportunities."
The Government has committed to buying at least five of the low-cost warships for the Royal Navy, with the first vessel expected to be in the water by 2023.
The average production cost is £250 million per ship.