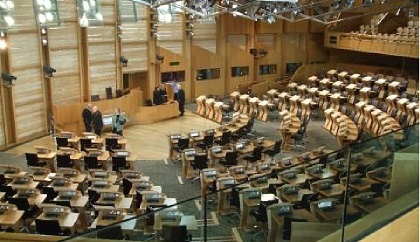 An MSP wants Holyrood to start collecting statistics on acid attacks.
Rachel Hamilton wants the Scottish Government to record the number of acid attacks across Scotland.
Currently, no data is held- with the statistics for assault not differentiating when corrosive substances have or have not been used.
The Conservative MSP for Ettrick, Roxburgh and Berwickshire now wants the government to collate the figures- following a recent spate of attacks across the UK.
Last month, a man was found guilty of an acid attack on a journalist in Glasgow, wihle a schoolgirl in East Lothian was jailed this week for a similar assault.
Speaking in the Scottish Parliament, Hamilton said:
"Acid attacks appear to be a fairly new phenomenon, and authorities are still getting to grips with how best to deal with them"
"But there's no question they are becoming more of a problem, with a series of high profile incidents across the UK."
"That's why it's essential the Scottish Government starts collating these figures so we can assess the scale of the issue"
"Ministers are able to publish statistics on other crimes, and it's now time for acid attacks to be included too."
"These are devastating attacks which change the lives of victims for ever and support mechanisms must be put in place for those affected."
"We need to do our very best to stamp these out, and assessing the scale of the problem in Scotland would be a good place to start."
"Scotland is a safe place to live, work and visit and we want it to remain that way."
"We need to engage with retailers to ensure that harmful substances are sold responsibly."