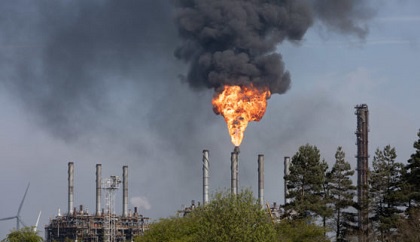 Bosses at the Mossmorran chemical plant will not be attending a public meeting being held about unplanned flaring at the site on Friday evening.
Jacob McAlister, who's the plant manager at the ExxonMobil facility, said they do not feel as though the meeting will provide a "fair opportunity" for "constructive" and "informed discussion."
He wrote: "Representatives from the Fife Ethylene Plant (FEP) will not be attending this evening's Mossmorran Action Group (MAG) meeting.
"This is due to the unavailability of senior plant managers and because we do not believe that this particular meeting will provide an opportunity for fair, constructive and informed discussion.
"We have, however, made repeated offers to MAG to join community representatives for a question and answer session on-site with our Senior Management Team in the near future (MAG has so far chosen not to accept)."
Mr McAlister continued: "Our intent is to give stakeholders an informed and factual insight into our plant operations and foster constructive discussion that focuses on the issues that directly matter to those living in communities local to FEP.
"Such a meeting would also allow us to share our Best Available Techniques Report which outlines a multi-million pound programme of improvements that we are planning to further minimise instances and impact of unplanned flaring – underlining our commitment to taking right and responsible action."
Kingdom FM News spoke to James Glen from the Mossmorran Action Group: