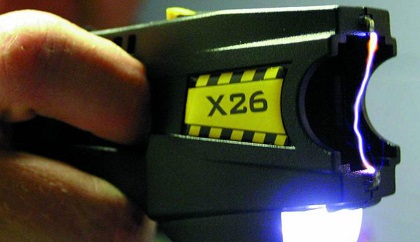 Police in Fife have been armed with more tasers, after a sharp increase in the number of officers assaulted in the region.
There has been a 75% increase in the number of reported incidents, with 336 assaults on officers recorded between April and September, compared to 192 during the same period in 2018.
Area commander for Fife, chief superintendent Derek McEwan, told Fife Council's Environment and Protective Services Committee he had ordered extra tasers so officers could protect themselves.
He said: "An assault on a police officer is a very significant offence. Some of the figures are quite concerning.
"It has risen, and it has risen at quite an alarming rate. We support our staff as much as we can. We have introduced taser into Fife and Fife division."
A taser is a device which can temporarily incapacitate a person by discharging an electrical current through their body.
Mr McEwan revealed he dug into his own pocket to help make the purchases, announcing: "I used some of my own funds to purchase more tasers than other areas of the country."
Lib Dem councillor Tim Brett, who sits on the committee, said officers had councillors "full support".
Let us know your thoughts below:
❗️ HAVE YOUR SAY- TASERS ❗️

Police in Fife have been armed with more tasers, after a 75% increase in assaults on officers since 2018.

Does this make you feel safe on Fife's streets?

Let us know 👇 Read more: https://t.co/WA86AWmDrQ

— Kingdom FM News (@KingdomFMNews) September 12, 2019