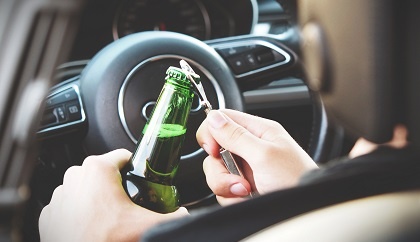 Police are cracking down on drink driving in Fife
Road traffic police in Fife are going to be stopping more cars over the next month in a bid to catch drink drivers.
Officers are increasing their roadside patrols, and urging people to avoid getting behind the wheel after drinking alcohol , even if it was the night before.
Being caught over the limit results in a minimum 12 month driving ban and a fine.
During the 2017 festive period, officers in Fife caught 35 people under the influence of drink or drugs.
Chief Superintendent Derek McEwan, Divisional Commander for Fife, said: "As a Fife resident, I know how beautiful the Kingdom is over the festive period and how much Fife has to offer, whether it's for shopping or nights out.
"To ensure that our communities have a safe and enjoyable Christmas and New Year, we have now launched our local festive safety initiative in partnership with Knockhill Racing Circuit.
"As part of the campaign, we'll have additional resources deployed to high streets and retail centres, as well as to support the night time economy, over the coming month.
"These officers will be on hand to offer useful information on crime prevention and personal safety, as well as to respond to any incidents which may arise.
"We're really grateful to staff at Knockhill for coming on board with this year's campaign, and you can also look forward to some really creative social media messages throughout December."