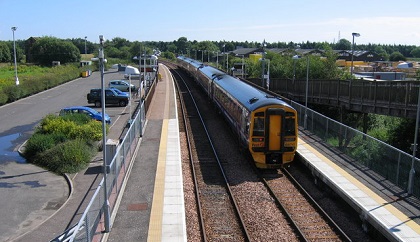 Campaigners want the line from Thornton to stretch five miles to Leven
People living in Levenmouth are having to turn down jobs in Edinburgh because it currently takes more than two hours to get there by public transport.
That is according to campaigners calling for a five mile stretch of railway between Thornton and Leven to be reopened.
The Levenmouth Rail Campaign (LMRC) claim that the Fife economy is suffering because of poor public transport, and that increasing bus services will not make enough of a difference.
The group met last week with representatives from Fife Council, including co-leader David Ross, as well as MSPs from across Fife.
#Markinch to #Edinburgh is £20.70 return on @ScotRail. This - according to Peter Brett who have been commissioned by @transcotland - is ?? 'than would be predicted by other £/per mile fares on the Edin - Glasgow service'.

— Jenny Gilruth (@JennyGilruth) November 30, 2018
Concerns were also raised at the meeting about rail fares being higher in Fife than they are in other parts of the country.
The campaigners believe that they have the strongest case for a new train line in the whole of Scotland, and are warning that if their calls for rail services to return to Levenmouth are turned down, there will be no new rail links at all in the whole of Scotland.
Eugene Clarke, the Chair of LMRC, says he is particularly concerned about the impact on the Fife economy and on job opportunities for unemployed people.
He is also calling for the Scottish Government to visit the area: