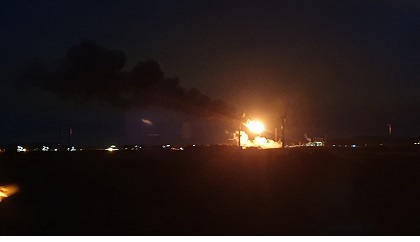 Bosses at the Exxonmobil plant at Mossmorran have blamed a "loss of steam generation" for the ongoing unplanned flaring (Pic: Stacey McGuinness/Facebook)
A night of unplanned flaring at Exxonmobil's Fife Ethylene Plant at Mossmorran has caused an uproar on social media, with locals branding plant bosses a "disgrace". 
Reports of high volume flaring at the site surfaced on social media at around 11pm on Monday night (August 12), with plant manager Jacob McAlister confirming events just after midnight.
In a statement, he said: "We can confirm that we have experienced mechanical failure across two of our three boilers.
"With the loss of this steam generation, we cannot continue to operate our normal processes.
"As such, we are progressing with the unit shut down to allow us to evaluate the root cause and execute necessary repairs."
Following a loss of steam generation, we have experienced a significant outage. Safety remains our No1 priority so we are now developing plans to shut down operations to allow us to execute maintenance and stop flaring. We will advise you of timescales as they become clearer.

— exxonmobil_fep (@exxonmobil_fep) August 12, 2019
He added: "Flaring will be required while our team take the steps required to safely shut down operations.
"We will always work to minimise the timelines, and will update you as these are confirmed.
"We, again, apologise if flaring is causing any concern but reiterate that the process is safe and poses no risk to communities."
Video from the plant entrance 03.15 13/8/19

Posted by Iain Gordon on Monday, August 12, 2019
It follows a weekend of planned flaring from Exxonmobil's neighbours, Shell.
We have contacted SEPA for a comment.