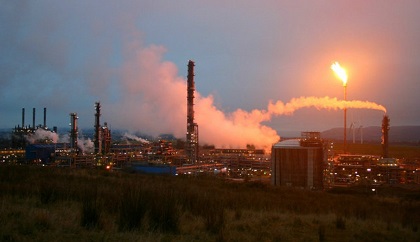 Millions of pounds is to be spent upgrading facilities at Exxonmobil's Fife Ethylene Plant at Mossmorran in a bid to reduce flaring. 
Boss Jacob McAlister announced on Tuesday £140 million will be invested in the plant over the next two years, creating 850 temporary construction jobs as a result.
It is understood the money will be spent on upgrading "key infrastructure" and introducing "new technologies" to reduce flaring at the site.
Kingdom FM News spoke to Mr McAlister shortly after the announcement
The plant was forced to close in August, after two of it's three operating boilers broke down.
It is thought it will reopen by winter 2019.
The announcement has been met with raised eyebrows by campaigners.
Councillor Linda Holt, from the Mossmorran Action Group, said:
"ExxonMobil is dazzling people with numbers.
"The fact is they have not been running their plant reliably, flaring has been unacceptable in duration and intensity, two major components failing have caused an extended shut down, SEPA rejected their initial BAT proposals and now HSE has issued an action notice about the explosion risk from fuel buildups.
"The company has ducked and dived when it comes to being transparent and accountable with its neighbouring communities and elected representatives."
She added: "I very much doubt Exxon is spending a penny more than it is being forced to, and this would not be happening without sustained pressure from communities, politicians and regulators."
Commenting, MP for Kikcaldy and Cowdenbeath Lesley Laird said:
"This major investment justifies the concerns communities have expressed for years about Mossmorran and its operations.
"Residents were patronised for the most part, and those who dared raised concerns publicly were derided for scaremongering.
"It is only through the concerted pressure of the Mossmorran Working Group that SEPA, HSE and the companies have finally all had to face up to the reality that communities had reached their absolute limit, and that they would have to act as the plant was clearly not fit for purpose.
"More detailed responses are now required from all of these organisations as to how, under the watchful eye of SEPA and HSE, Fife Ethylene Plant was allowed to deteriorate to this extent."
She added: "Roseanne Cunningham MSP said there is no justification for an independent review – she is wrong and needs to face up to what was an escalating list of issues at the plant. Splashing the cash now should not be used to cover up long-term operational failures, and lessons need to be learned.
I'll be writing again to both plants, watchdogs and Roseanna Cunningham MSP. The Mossmorran Working Group is not going away and we will be redoubling our efforts to ensure questions are answered at our next meeting in October.
The Fife Ethylene Plant began operations in 1985 and has a production capacity of over 800,000 tonnes of ethylene a year.