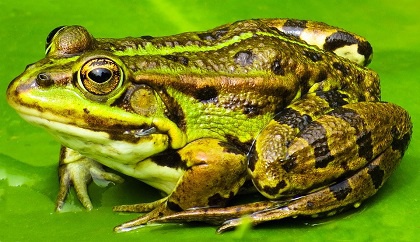 Frog sightings have dropped across Scottish gardens
The number of frogs and toads spotted in Scottish gardens is dropping, according to a nationwide survey.
The RSPB's 'Big Garden Birdwatch', which looked at over 10,000 gardens, has uncovered a 5% drop in amphibian sightings.
We are now being urged to create small ponds from washing up bowls to attract them back.
James Silvey, RSPB Scotland's Species and Habitats Officer said: "Many of us may have childhood memories of watching tadpoles swimming about in ponds or spotting toads hidden away under rocks – early encounters with nature often stay with us for a lifetime.
"Sadly, such experiences are becoming less common with children spending less time outdoors.
"As frog and toads are amphibians they need a nearby source of water close to their homes to survive.
"It's very easy to give them a helping hand by creating a small pond, or using a washing up bowl to make a pool away from sunlight and well covered with plants.
"These simple tasks to help them can have a positive impact on a whole range of garden wildlife too."
The survey also found that nearly 40% of Scotshave seen a red squirrel, while more than half have spotted a hedgehog.
Foxes have emerged as the most common garden visitor.