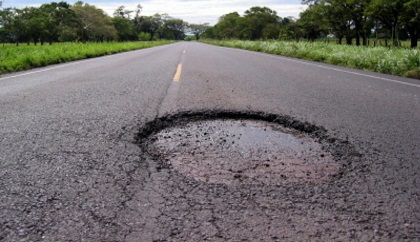 The majority of pothole repairs across Fife are classed as temporary measures.
Figures have shown that out of the 23,654 potholes repaired across the Kingdom in the financial year 2018/19, only 35.3% (8354) were considered permanent.
The remaining 64.7% (15,300) were classed as temporary measures, repaired to a "lower spec".
Fife Council's policy means that temporary repairs are carried out when there are a large number to be dealt with very quickly and it is in the interest of public safety to sacrifice quality for quantity.
When the quality of repair is not a primary factor in the repairs expected longevity and when the location would make it unsafe to stop for the time required to carry out a high quality repair.
The transport services is currently planning to carry out a pilot study in Q3 and Q4 this year, to trial changes intended to increase the proportion of higher quality, permanent repairs and reduce response times.
At the full Fife Council meeting on Thursday, Councillor Jonny Tepp asked Councillor Altany Craik, convener of the economy, tourism. strategic planning and transportation committee: "Given those numbers, would you consider the current policy to be one that is considered to be operating successfully?"
Cllr Craik said: "Our officers carry out our policies as directed and obviously the number show that we are filling these potholes properly. I've heard the frustration about potholes many times.
"If Cllr Tepp has concerns about the policy, he's more than welcome to arrange it go to scrutiny to be discussed."
In January it was revealed that Fife has some of the worst roads in the UK, with 30 potholes in every km of road, making it the fifth worst local authority in the UK and third worst in Scotland, behind Dundee and Edinburgh.
Reporting by Emma O'Neill