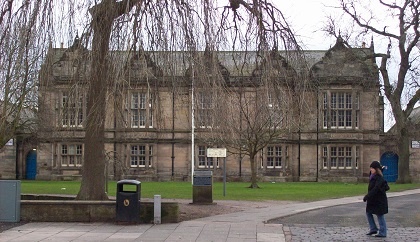 Campaigners are gathering outside the school for 10.30 this morning in support of installing a 2G pitch.
North East Fife MSP Willie Rennie launched a petition to have Fife Council reconsider its decision not to include a 2G field in the proposed new school pitches.
The 38 Degrees petition has over 1,300 signatures.
It comes after Active Schools statistics revealed more hockey is played at the school than both football and rugby combined.
Despite this, neither of the two new synthetic pitches planned for the school will have a 2G surface.
At least one of the pitches will be 3G - which is suitable for playing rugby and football on.
The campaigners say not including a 2G pitch will unfairly affect girls - who, statistics show, are participating in sport more than boys at the school.
The council says it is providing a specialist rugby pitch and an all-weather pitch.
A Fife Council statement said: "With regards to hockey, the planned 3G pitch is suitable for recreational training and school use up to S3 level, as per the Sportscotland data sheet.
"Station Park will continue to be utilised by the PE department for field hockey provision and, in addition, the new sports hall can accommodate indoor hockey provision.
"In terms of the Fife pitch strategy for hockey, St Andrews University is the designated east Fife facility. Therefore there is provision, within the immediate area, at the University of St Andrews."
Gina Logan MBE said: "Hockey players, both male and female, in North East Fife must be given the opportunity to play their sport on a suitable 2G pitch, within the area.
"At present the university pitch is oversubscribed so players, many of whom are too young to drive, have to travel to Perth, Dundee or Dunfermline.
"[H]ockey at a competitive level needs a 2G pitch."