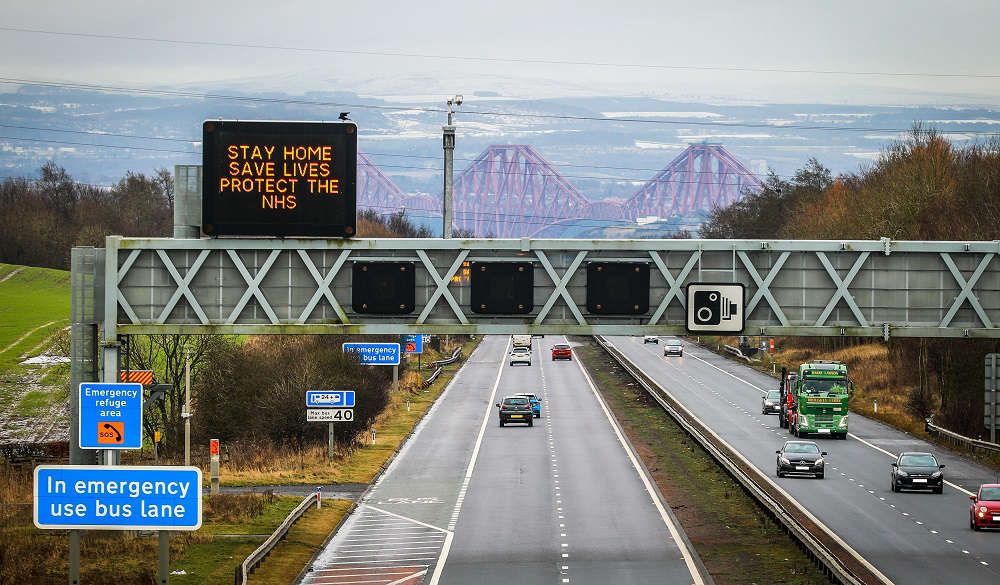 Picture: Steve Brown/DCT Media
A camera system designed to stop speeding on the M90 in Fife will go live later this month.
The variable mandatory speed limit (VMSL), which aims to also improve driver behaviour, is in place across nearly 14 miles worth of a stretch of road between the M90 at Halbeath on the edge of Dunfermline and the M9 north of Newbridge on the outskirts of Edinburgh.
Transport Scotland says out of more than 200,000 vehicles travelling across this section of road weekly, nearly one in five are speeding, with a persistent number of vehicles breaking the speed limit.
That is said to be causing stop-start conditions, resulting in unreliable journey times with trips taking up to five minutes longer during busy periods.
Varying the speed limit aims to help smooth traffic flows at busy times and make journey times more reliable.
The HADECS (Highway Agency Digital Enforcement and Compliance System) is going live on Monday 23 May 2022.
Jenny Gilruth, the Scottish Government's Transport Minister and MSP for Mid Fife and Glenrothes, says while the system won't totally solve congestion at peak times, it will make journey times "more predictable and reliable".
She said: "This camera system on a key section of the M90 is designed to help improve journey times for drivers.
"The evidence shows that some drivers are regularly speeding between Halbeath and Newbridge - this is leading to stop start conditions, which is affecting journey times and delaying travel over the bridge.
"We know from experience with camera systems successfully deployed elsewhere on our road network, that they encourage improved driver behaviour, which leads to enhanced levels of speed limit compliance.
"By encouraging more road users to comply with the variable speed limit on this stretch of road we expect to see smoother traffic flows during busy periods.
"This system will not completely solve congestion at peak times, but is expected to make journey times more predictable and reliable.
"A comprehensive campaign is now underway to raise awareness of this change ahead of the camera system becoming operational on Monday 23rd May so that everyone using the route will know what to expect."
Chief Inspector Mark Patterson from Police Scotland Road Policing said: "Police Scotland is pleased to work in partnership with Transport Scotland to regulate the flow of traffic approaching and crossing the Forth.
"Key outcomes of Scotland's Road Safety Framework to 2030 are for drivers to know and comply with road rules and drive at an appropriate speed for the conditions.
"HADECS cameras will enforce the variable speed limit to encourage compliance, improve driver behaviour and should be a reminder to drivers of the importance of complying with the mandatory variable speed limit at all times."