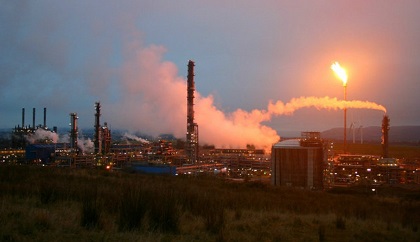 Mossmorran started flaring on Monday
A group of local residents are calling for bosses at Fife's Mossmorran plant to prove that its operation does not pose a risk to their health.
The plant suffered a 'process upset' earlier this week, and has been burning an emergency flare since Monday.
Locals have complained of sleep deprivation from the light of the flame and the vibration it is causing - they are also concerned it is impacting air quality.
James Glen is a volunteer from the Shining Waters action group, which is representing locals who feel they are being negatively impacted by Mossmorran.
He said: "Our board members have been working with individuals in Auchtertool and Lochgelly, and reaching out to residents in the Cowdenbeath and Lumphinnans area to form an action group to better represent residents and seek redress for some of the long-term negative impacts caused by operations at Mossmorran.
"Some within our communities are concerned that councillors are inert on this major issue, and feel that the corporations have run roughshod over our local communities for years.
"ExxonMobil deny there are any health impacts, yet offer no definitive study to back-up their claims.
"The corporation and some of our elected apologists focus solely on air quality impacts and ignore the immediate and measurable impacts from the noise, vibration and light pollution that residents are forced to endure with little respite and no compensation."
George Kinnell treasure of Shining Waters says:
"Mossmorran is an aging facility well-past its expiry date so it is no surprise that we are again in the midst of a major "process upset" or extended period of emergency flaring."
No danger
A Spokesperson for Exxonmobil said: "ExxonMobil Chemical Limited apologises to the local community for any inconvenience or concern caused by the continued flaring from the Fife Ethylene Plant, Mossmorran.
"We are currently in the process of resuming normal operations, and anticipate completion within the next 24 hours.
"The flaring is a result of a process upset on the plant on Monday morning, and is an essential part of the plant's safety systems.
"There is no danger to local communities or employees.
"Many years of rigorous testing by 3rd party consultants on behalf of the Fife Council Mossmorran and Braefoot Bay Independent Air Quality Monitoring Review Group show that the ExxonMobil Chemical Limited facilities at Mossmorran and Braefoot Bay have no significant impact on air quality in the local communities and meet national and EU air quality objectives.
"The latest report on Fife Council's website relates to 2015 (the 2016 report is due to be published shortly) and concludes that FEP continues to pose no significant risk to the health of members of the local community.
"We would like to assure you it is our aim to keep flaring to a minimum."