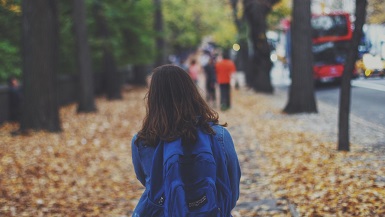 Concerns have been raised about the route children have to take between two primary schools and Inverkeithing High School.
Fife schools have just gone back into the classroom for the new term but parents are still worried about the route they have to take to school.
Concerns have been raised about walking route from Camdean Primary School and Kingsroad Primary School to Inverkeithing High School.
It was changed as part of a consultation in to school catchment areas in Rosyth, with part the walk going by a motorway slip road and over a flyover bridge.
Mum Lou Blair, who is a member of the Kingsroad Primary School Parent Council took part in the walking assessment, has been speaking to Kingdom FM News:
Another mum- who wanted to remain anonymous - is warning parents may keep their children off school:

Shelagh McLean, Education Head of Service, said: "We have informed all parents and carers from the Rosyth feeder schools that the walked route to Inverkeithing High School has been assessed as available.
"We'll reassess it during the winter to make sure it is still available and if this was to raise any issues we would take these into consideration.
"We have a number of criteria, which were agreed by Councillors when they approved our new "Walked Routes to School" policy.
"All new routes are being assessed using these criteria, Rosyth too.
"This route is already a Walked Route which pupils from the Park Road catchment area have been using for a number of years to walk to Inverkeithing High School.
"The route was assessed last year as part of our statutory consultation on school catchments and found to be suitable. It has now been re-assessed in line with our new Walked Routes to School policy.
"While we understand that some people will have their own views on what makes a route suitable for walking we need to make sure that we are judging all routes on the same basis.
"In order to have a fair and equal policy across Fife, we can't take into account feelings or perceptions about a route, only the specific and individual characteristics of a route.
"That way we make sure that all children in Fife are being treated fairly and equally."