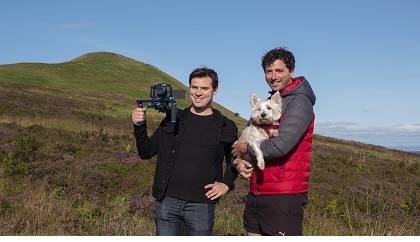 Gavin (left) buddied-up with former flatmate Ross (right) to document his battle with depression (Pic: Midgiebite Media)
A hiker from Glenrothes has opened up about his battle with depression and how "Munro bagging" has transformed his life. 
Ross Cunningham began hiking two years ago to help distract him for the tackles he was facing with his mental health.
After sharing his story with millions of people online, the 33-year-old has spoken to Kingdom FM News about how climbing some of Scotland's most magnificent mountains helped him overcome the illness.
Ross buddied-up with former flatmate Gavin Hugh to film his time spent on the Munro's.
Gavin, a filmmaker from Kirkcaldy, pitched the short documentary to BBC's The Social online platform who published it shortly afterwards.
Since then, the video has received more than 2 million views.
"We're absolutely delighted with the response," said Gavin.
"We really didn't expect the video to get the reach that it has! It's been a privilege to share Ross's story.
"Hopefully our film inspires a few more people to get out and explore Scotland, which is one of the most beautiful countries in the world."