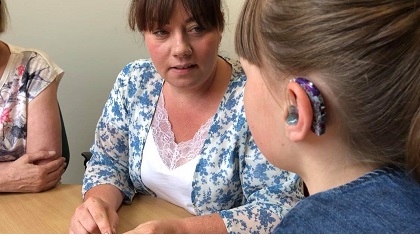 Sam Braid, from Glenrothes, is backing the National Deaf Children's Society's calls
Deaf pupils are eight times more likely to leave school with no qualifications than their hearing classmates. 
That is according to the National Deaf Children's Society, who are calling for more to be done to address the attainment gap between deaf and hearing pupils.
They are also urging the Scottish government to introduce a bursary to train specialist teachers in British Sign Language.
Kingdom FM News spoke to Fife mum Sam Braid, whose deaf daughter Niamdh has not received any BSL teaching in school:
The Scottish Government introduced it's national plan for BSL in 2017, which aims to help make sign language more accessible and increase opportunities for deaf people.
We reached out Maree Todd, who's the Minister for Children and Young people:
A total of 8% of deaf students left school with no qualifications, compared to just 1% of their hearing classmates.