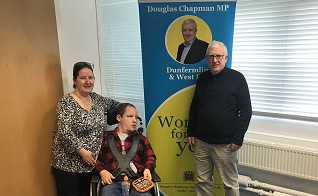 Jonanthan, from Dunfermline, has a rare genetic disorder which needs round the clock care.
There's fears the vote to leave the EU may stop a Fife man from getting his life saving medication.
Jonanthan Fisher has the genetic disorder Lowe Syndrome which affects his brain, eyes and kidneys and affects only 1 in every 500,000 boys.
He as a range of complex healthcare needs as wells as profound and multiple physical, sensory and learning difficulties which require six different medications - three of these are made in the EU.
Jonanthan's mum Fiona has been speaking to Kingdom FM News about her concerns for her son.
She says while they are able to find alternatives for some, the medication to treat his epilepsy is critical:
But it's not just her own son Fiona has concerns for:
Fiona has also raised her concerns with MP for Dunfermline and West Fife Douglas Chapman, he raised the issue about making sure there are enough supplies of medication with the Secretary of State for Health Matt Hancock.
Commenting on Jonathan's story Mr. Chapman said: "Cases like this really bring home the real-life impact of Brexit.
"This medication is vital for people like Jonathan and others across the UK and it shows the lack of preparation and communication by the Tory government that families are still being left in the dark as to whether they will have access to vital medicines.
"This is causing extreme worry and anxiety for Jonathan's family, they dedicate so much of their time to look after him and need to know if they will be able to continue to successfully care for him.
"I would urge the government to seek a guarantee that supplies of vital medicines will continue after Brexit, deal or no deal."
A Department of Health and Social Care spokeswoman said: "We are doing everything appropriate to prepare for EU Exit on October 31.
"Our priority is for all patients to continue to have access to medicines and medical products when we leave the EU.
"We are working urgently with all our partners and our plans should ensure the supply of medicines and medical products remains uninterrupted."