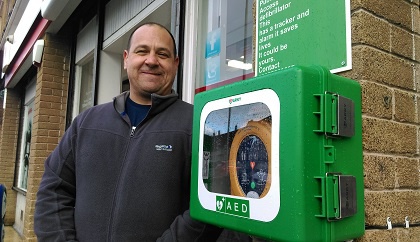 Norman Dick from Woodside Tenants Residents Association with the defibrillator
Residents of a Glenrothes community now have access to life-saving equipment in the event of a cardiac arrest.
A defibrillator has been installed at the shops on Bighty Avenue in Woodside, after locals received funding from Fife Council with the assistance of local councillor, Cllr Ross Vettraino.
People living nearby are now being offered the opportunity to be taught how the equipment works.
It gives a high energy electric shock to the heart through the chest wall to someone who is in cardiac arrest.
After an arrest, every minute without CPR and defibrillation reduces someone's chance of survival by 10 per cent, according to the British Heart Foundation.
Another one of the devices has been re-installed in nearby Collydean after it was stolen earlier this year.
Norman Dick, the chair of Woodside Tenants Residents Association, explains how a local tragedy spurned the community into action: