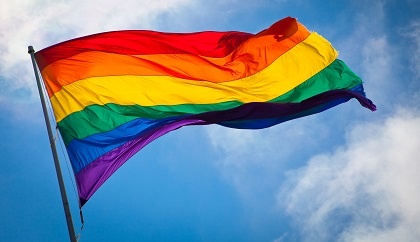 Hate crime is still a serious concern for many LGBTI people in Scotland, according to a report out today.
60% say they've been the victim of at least two hate crimes, while 1 in 5 have been attacked more than 10 times.
The survey by the Equality Network's found that could be verbal abuse or threats, physical or sexual attacks or online abuse.
Two thirds of lesbian, gay and bisexual people, and four fifths of trans people, have experienced hate crime targeted at them.
In nine out of ten cases they experienced more than one hate crime.
The most common location for hate crime is in the street, followed by public venues such as pubs and cafes.
Hannah Pearson, Policy Coordinator of the Equality Network, said:
"Hate crime is a serious concern for many LGBTI people.
"We were shocked to find how many people have experienced repeated hate crime.
"These crimes are unacceptable in 21st century Scotland.
"Although the report makes for difficult reading, we hope that people will find it informative and useful, and together, we can work in tackling all forms of hate crime."
The research found that most hate crime is not reported to police.
71% of LGBTI people who experienced hate crimes did not report any of them to the police, and only 5% reported all of them.
Reasons given were thinking that the crime was 'not serious enough', believing nothing would be done, hearing of others' poor experiences after reporting, and fear of the consequences.
However, when people do report hate crime, more of them are satisfied with the help they get from the police than was the case a few years ago.
41% were satisfied with the police response and 39% dissatisfied.
But, where the crime they experienced was prosecuted, only one quarter were satisfied with their interaction with the Procurator Fiscal and with the court, and half were dissatisfied.
Respondents' comments about reporting to the police varied, and included:
"They dealt with the incident very well, and let my partner and I know every step of the way what was going to happen." - Heterosexual trans man, 16-24, suburban area.
"Slow response, unsympathetic officers, invasive and aggressive treatment of me as a victim and no charges ever brought." - Gay man, 25-34, suburban area.
The report makes a range of recommendations to ensure better responses to hate crime, to encourage reporting of hate crimes to police, and to prevent hate crime.
Hannah Pearson added:
"We welcome that we had the opportunity to train a national network of LGBTI Police Liaison Officers last year, but we know that further training in LGBTI issues is needed for all police, as well as Procurator Fiscal Service staff.
"Leadership against prejudice from the Scottish Government and local government, including education in schools, remains vital in preventing hate crime."