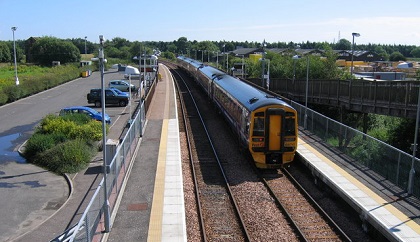 The five mile stretch of track would start in Thornton
Fife Council is being called on to help railway campaigners push forward attempts to re-open an unused stretch of train tracks.
The Levenmouth Railway Campaign (LMRC) want five miles of railway between Thornton and Leven to be reinstated.
They are now asking council bosses to set up a 'blueprint leadership group', which would start to prepare for the benefits of a new train line.
A similar group was started by the group that campaigned for the successful Borders Railway, which opened in 2015.
Eugene Clarke from LMRC believes that Fife could achieve a similar level of success:
Altany Craik, Convener of the Economy, Tourism. Strategic Planning & Transportation Committee, said: "I've been in touch with Eugene and we will be arranging a meeting with LMRC next week to take things forward.
"As for the 'leadership group' it is definitely something we would like to explore and include all the relevant stakeholders to take this forward.
"The consultants report should be completed soon and that will help us determine what resources are needed to make the reopening of the line to Leven a reality."