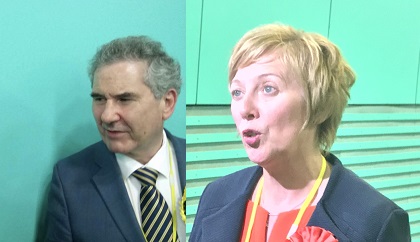 Roger Mullin lost his seat to Lesley Laird
The former Deputy Leader of Fife Council has been elected as the new MP for Kirkcaldy and Cowdenbeath.
Lesley Laird won the seat for Scottish Labour with a majority of under 300 votes, beating the SNP into second place.
She spoke of her joy being elected to the House of Commons:
"I'm absolutely delighted. I'm delighted that we've managed to win the seat back, but more importantly I'm delighted that we are looking in other parts of the country that Labour is coming back and that we're turning results around and I'm really encouraged by all the results that I'm hearing are coming in."
Former SNP MP Roger Mullin congratulated his successor and spoke of his pride serving the people of the constituency over the period of around the last two years:
"I of course am disappointed. But I have to say, I think in the morning I will still be able to look at myself in the mirror and know that for the last two years I have done all I could have done to try and serve the good people of this constituency."
Dave Dempsey sealed third place for the Conservatives while Malcolm Wood of the Liberal Democrats and David Coburn of UKIP finished fourth and fifth respectively.
Final result:
Lesley Laird – Scottish Labour – 17,016
Roger Mullin – Scottish National Party – 16,757
David Dempsey – Scottish Conservatives – 10,762
Malcolm Wood – Scottish Liberal Democrats – 1,118
David Coburn – UK Independence Party – 540
Turnout: 63.6%