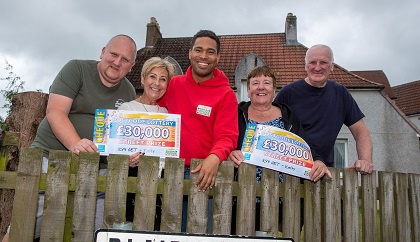 Four neighbours from Kelty had a very welcome visit from the People's Postcode Lottery on Wednesday morning.
The Blair Street residents won the prize pot after their postcode was drawn, and were presented with cheques of £30,000 each on July 10.
Two of the winners were stunned as they collected their £30,000 win, the other two lucky locals were unavailable to pick up their prize in person.
Cleaner Margaret Conners, 59, couldn't believe her luck when she was presented with the prize.
She said: "I'm so excited. You just don't think something like this will happen to you.
"I'm not sure what I'll spend it on – maybe a nice holiday."
Margaret's partner, local window-cleaner Eric Robertson, was with her when she was presented with her cheque.
He added: "I know what she'll spend it on – clothes!"
Shop assistant Gina Marshall, 56, also won a £30,000 prize. She said: "I can't believe it! I'm still in shock.
"My husband William thought it was a scam at first when I told him we were getting a visit, and I think it's still sinking in for both of us.
"It's lovely that our neighbours have won with us too and that local charities have benefitted from us playing. It's great for the community."