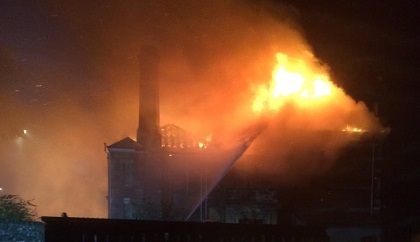 People living in Inverkeithing are being reassured the old primary school on Roods Road will remain a listed building.
It comes after a huge fire earlier this week that has led to some parts of the building needing to be demolished for safety reasons.
Residents met with local councillors and the developers looking after the building on Thursday night to find out about its future.
Neil Mitchell, Service Manager, Building Standards and Public Safety said: "Following the fire at the former Inverkeithing primary school the Council has taken action to stabilise the external perimeter walls of the building's structure in the interests of public safety.
"These works have been limited to ensure that as much of the listed building as possible is retained.
"Parts of the upper storey walls have been removed down to window sill level.
"Early next week some limited work will be done to remove loose rubble, slate and other material from the top of the wallheads as this could pose a risk in high winds.
"The Council's Building Standards & Public Safety Team is working with the site owner who is responsible for site safety and security.
"The central date stone was in the most fragile, highest part of the external wall and fell into the building during the emergency works.
"The Council is aware that this is of particular interest to the community and will attempt to locate and investigate the condition of this stone.
"If this is retrievable we will request that this is stored by the owner for future restoration."