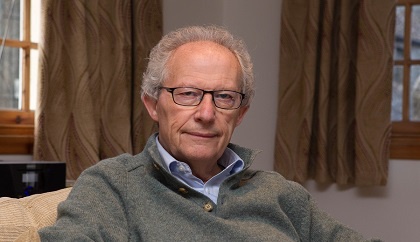 In the second part of Kingdom FM News' long interview with former First Minister Henry McLeish, he expressed his thoughts on the future of politics after the coronavirus crisis.
Mr McLeish said the UK is 'fragile', needs to reform and added there needs to be a decentralisation of power.
He also called for deeper thought in politics about the future direction of the country, rather than there being a focus on a 'simplistic' choice between two sides like independence vs the union or remain vs leave.
That said, the former Central Fife MP and MSP slammed Brexit as a 'stupid' decision when it was taken.
He also claimed it looked more so now, because of the 'uncertain' future with the UK moving away from the European Union and potentially closer to the United States with President Donald Trump in charge.
President Trump supported Brexit in the run up to the 2016 EU referendum while he was a candidate for the White House, saying the UK would be 'better off' not being part of the bloc.
Meanwhile, Mr McLeish added he wants a move away from a tribalistic style of politics and see this replaced with more concensus in the Scottish Parliament.
Our reporter Anas Hassan asked the former Scottish First Minister if he thought politics would change here after the pandemic:
In addition to this, Mr McLeish also spoke about how he has coped during the coronavirus pandemic after initially expressing his thoughts about the future of society after the crisis:
The UK left the EU at the end of January earlier this year after the referendum went in favour of leaving the bloc and the Conservatives winning an overall majority in the House of Commons at the 2019 Westminster general election.
Prime Minister Boris Johnson pledged to 'get Brexit done' in the election campaign before last December's vote took place.
A transition period is currently in place and a spokesperson from the UK Government said the PM doesn't plan to change the end date of it, which is 31 December 2020.
Shortly after Mr Johnson secured election victory, the government at Westminster formally rejected a demand for a second Scottish independence referendum from First Minister Nicola Sturgeon.
It's after she wrote to him to ask for powers to be given to the Scottish Parliament to hold a referendum on Scotland's future.
But there are now no plans by the SNP Scottish Government to hold a vote this year, because of the Covid-19 pandemic.
The Conservatives, Labour and the Liberal Democrats don't support independence, but the Greens are pro-independence.