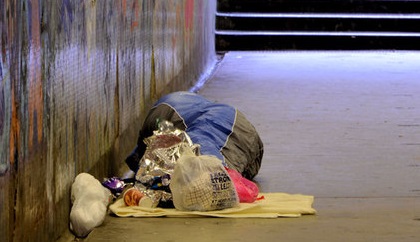 Homelessness applications in Fife have gone up by 10% in the last year.
A report from the Scottish Government show 228 more people presented themselves as homeless in the Kingdom for the period April 2018 to March 2019.
Applications for homelessness assistance have increased across Scotland by 3%, with 8% of people saying they had slept rough at least once in the last three months before making an application.
Shelter Scotland's head of communications and policy Gordon McRae said:
"These statistics expose the devastating impact Scotland's housing emergency is having on people's lives. This is the human cost of our collective failure to build the homes we need. On an industrial scale, thousands of men, women and children are being denied their most basic right to a safe home.
"We wholeheartedly welcome the progress the Scottish Government has made on building 50,000 affordable homes, including 35,000 for social rent by 2021. New Scottish Government-led initiatives like rapid rehousing will take time to bed in, but these only deal with the terrible consequences of becoming homeless, they do not address stopping homelessness by preventing it in the first place.
"Every 17.5 minutes a household was made homeless in Scotland last year with 29,894 households assessed as homeless – up 2% on last year.
"For the fifth year in a row the number of homeless children living in temporary accommodation has risen – up 3% to 6,795. People are having to stay longer in temporary accommodation with their lives in limbo.
"And on 3,535 occasions people were denied their legal right to emergency housing by local authorities – being turned away to sleep rough, sofa surf or return to dangerous situations.
"The question every citizen of Scotland must ask ourselves is how much longer are we prepared to tolerate this."
He added:
"Last year, when homeless applications rose for the first time in a decade, we warned that alarm bells should be ringing in Holyrood and asked for urgent action from all areas of local and national government to combat homelessness and its causes. On today's evidence, it is clear no progress has been made and homelessness in Scotland is still getting worse not better.
"Rights are not a privilege they are a legal entitlement enforceable under the law. Shelter Scotland will not sit idly by as people's legal rights to a home are routinely denied."
Kingdom FM News has approached Fife Council for a comment on the figures.