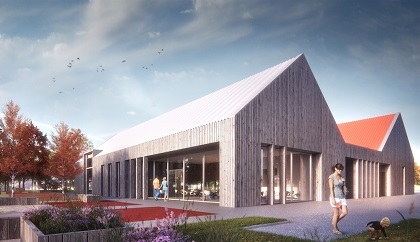 An artist's impression of the steelworks plans
Half a million pounds is being spent turning a derelict steelworks in Tayport into a community hub.
The Scottish Government regeneration fund is also awarding £360,000 to revamp the Dreel Halls in Anstruther.
In total, £26m is being spent transforming older buildings that have been abandoned, particularly in poorer parts of Scotland.
Local Government Minister, Kevin Stewart, said: "I'm really pleased that these fantastic, locally-driven projects will benefit from an injection of funding.
"They will help regenerate local areas, stimulate inclusive growth and create new jobs.
"The focus of the projects being funded this year range from tackling social isolation, mitigating welfare cuts, providing training opportunities, creating business space and increasing tourism – to name but a few.
"They are an excellent example of how national and local government are working together on shared priorities that benefit local communities."
Cllr Altany Craik, Fife Council's Economy Convener, said: "This is a very welcome investment in Fife from the Scottish Government's Regeneration Capital Grant Fund.
"Since the Fund first opened in 2014 almost £4m has been awarded to projects across the Kingdom delivering regeneration at the heart of our communities."