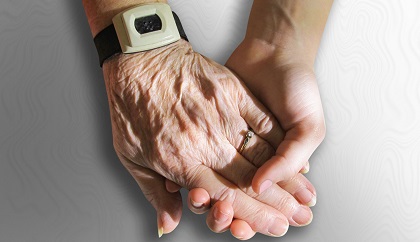 The scheme helps people work with dementia patients
A housing association in Fife is the first in Scotland to be awarded 'dementia friendly' status.
Staff at Kingdom Housing Association have completed courses highlighting the signs people may be living with degenerative brain diseases.
The scheme is run by the the charity Alzheimers Scotland, who are encouraging whole communities to make changes for the benefit of people with dementia.
Training involved a virtual reality 'dementia tour', which is said to be the closest experience that can be given of what dementia might be like.
Bill Banks, group chief executive at Kingdom Housing Association, said: "Seventy-two staff attended the training and I am very pleased that Kingdom has been accredited as part of the Dementia Friendly (Fife) Community.
"The training will greatly assist our staff when providing advice and assistance services to our customers.
"The virtual tour was a very realistic way to help understand the issues experienced by people living with dementia and it provided everyone with a much better understanding of the challenges, which have a much wider impact than memory loss.
"I would encourage all social landlords and care providers to consider the virtual experience as part of their training plans.
"We carried out an evaluation after the event and 96.7% of the attendees on the training rated it as 'excellent', with the balance choosing 'good'."