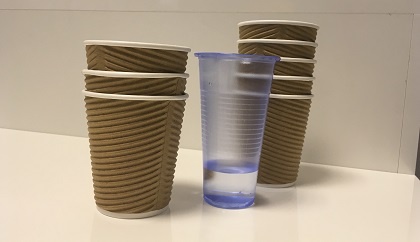 Holyrood's being criticised for the amount of disposable cups it uses.
A freedom of information request from the Scottish Liberal Democrats found more than 1200 cups were bought at the Scottish Parliament in the last year.
They're urging the Government to "lead by example" in the fight to reduce waste.
The party's comments come on the back of their new "Save Our Seas" campaign which is urging the government to take action on the 8 million tonnes of plastic dumped in the world oceans.
They want to:
Commit to a Plastic-Free Charter to eradicate unnecessary plastic waste from Government Departments and set an example to businesses and consumers.

Tackle our throw-away culture by providing incentives for reuse and recycling, including a plastic bottle return scheme and a 5p charge on disposable coffee cups.

Encourage businesses to reduce plastic packaging and introduce plastic free aisles in supermarkets.

Work closely with other countries to find global solutions to tackle the crisis of ocean pollution.

Invest in research and development into non-plastic alternative materials which are cost effective and sustainable in the long-term.
Scottish Liberal Democrat Environment Spokesperson Mariam Mahmood said: "We have become accustomed to buying a morning coffee and throwing away the cup without a moment's thought.
"Together, we use and throw away a staggering 2.5 billion coffee cups each year in the UK.
"However, there is a growing realisation of the damage that waste on this epic scale is causing.
"Liberal Democrat plans for a charge would recognise this environmental impact and mould consumer behaviour towards using re-usable cups and mugs.
"Ministers could presumably introduce a charge across the Scottish Government immediately if they so chose."