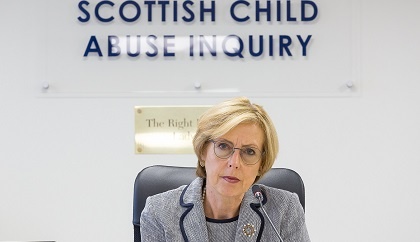 Lady Smith, Chair of the Scottish Child Abuse Inquiry (© Nick Mailer)
Survivors of historic sexual abuse are holding a vigil today, as the Scottish Government starts taking evidence in its inquiry.
Campaigners say they are concerned not enough is being done to find victims - and are encouraging everyone affected to bring evidence forward.
Dave Sharp suffered years of abuse when he was a pupil at St Ninians School in Falkland in the 1970s.
He is joined at the vigil in Edinburgh by other Scottish survivors and survivors from Northern Ireland - as well as politicians from both Scotland and the Northern Ireland Assembly.
Survivors from the campaign group S.A.F.E who have organised the vigil want to encourage as many people who have been affected by historic abuse to come forward and give evidence to the inquiry.
A minutes silence was held this afternoon to remember those children who's lives have been taken by abusers, those who have lost their lives from the affects of abuse and those who have died without gaining justice for the crimes committed against them.
Dave Sharp has been speaking to Kingdom FM News about the vigil and the start of the inquiry: